About Meher Baba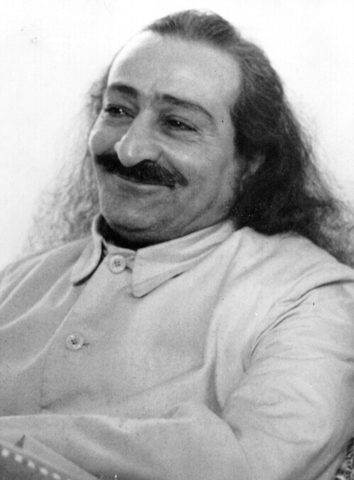 Meher Baba (1894–1969) declared himself to be the Avatar of our age—God in human form, whose most recent advents were as Muhammad, Jesus, Buddha, Krishna, Rama, and Zoroaster.
Born Merwan Sheriar Irani to a Persian Zoroastrian family in Pune, India, he was awakened to his divinity at the age of 19 when kissed on the forehead by Hazrat Babajan, an old Muslim woman revered as a perfect master. Four other masters—Shirdi Sai Baba, Upasni Maharaj, Tajuddin Baba, and Narayan Maharaj—also played a role in his "unveiling," after which Merwan became known as Meher Baba ("Compassionate Father" ).
Saying he had come not to teach but to awaken, he observed silence from July 10, 1925, communicating first with an alphabet board and later through his own unique gestures. His silence was observed not as a spiritual discipline, he said, but as a necessary condition for his work, which included periods of intense activity and world travel alternating with seclusions during which he did his Universal Work, aimed at giving a spiritual push to the entire Creation. The result of his work, he said, would be a New Humanity based on love, with all religions brought together like "beads on one string." The impact of his work would be felt through his Manifestation as Avatar, a world-transforming process that he linked to the breaking of his silence by speaking the divine "Word."
Meher Baba's followers — whom he called "Baba-lovers" because the quickest of the High Roads to God lies through love for the Avatar, who is consciously one with the Truth — include men and women of all nationalities, races and ethnic groups, and religious backgrounds.
For a more complete biography of Meher Baba, see the Wikipedia article.
Books by & about Meher Baba
Please see the Online Library at the Avatar Meher Baba Trust site, where books by and about Meher Baba can be downloaded free as pdf's.
To purchase books by and about Meher Baba as well as videos, see:
Sheriar Books in North Myrtle Beach, SC
Meher Baba Books in Los Angeles, CA
Searchlight Books in Walnut Creek, CA
Meher Baba Information in Berkeley, CA
Periodicals
The Awakener Online
Glow International. Published quarterly by Beloved Archives
Love Street Breezes, ed. Dina Snow Gibson. Get a free pdf of the premier issue.
Om Point Circular, ed. Laurent Weichberger: free pdf of all issues.